SIGNIFICANT EXPERIENCES

Lt. Frank Hammond spent eight strenuous months in combat through France, Belgium, Luxembourg, Germany & to the Czech border As an infantryman with the U.S. 3rd Army under command of General George Patton he fought and was wounded in the "Battle of the Bulge". After recovery he participated in an amphibious crossing of the Rhine River. Frank walked and fought from Belgium, thru Germany to the Czech border where his unit met up with the Russian Army. After WWII ended he joined the Army Reserve until 1952. At Lexington, Frank was the first Captain of the Lexington Veterans Association Honor Guard.

He and his wife, Jeanne, lived in Southmont Cove.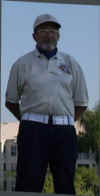 Frank Hammond passed away at Lexington on December 17, 2004. Services were held at St. Hilary's Episcopal Church in Ft. Myers with Military Honors.

To view picture in larger format please click on the picture. To return back to page please click on the browser back button.