SIGNIFICANT EXPERIENCES
Construction of the Phoenix invasion breakwaters ( floating concrete breakwaters) for use in the Normandy Invasion
Participated in "D-Day" Invasion and the "Battle of the Bulge" as a member of the 372nd Engineer Regiment
Construction of several field hospitals
Combat duties in "Task Force Reed", a composite force of engineer, cavalry & tank destroyer units which were to hold the flank at the Moselle River
Construction of several POW enclosures
Reconstruction of bridges on the Moselle and Rhine Rivers
He and his wife, Betty lived in the Sommerset Villas.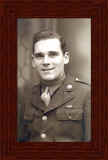 Robert Hellner passed away at Lexington in 1999 and is buried in Ann Arbor, Michigan with full military honors.

To view picture in larger format please click on the picture. To return back to page please click on the browser back button.